Exhibit Composition
CEATEC exhibition venue can be largely divided into two areas; Area Exhibits for presenting products and solutions, and Planned Exhibits for participation and exhibitions in accordance with specific purpose.
Area Exhibits
This is an area where exhibitors can apply for the area by the number of booths (one booth equals to 9 square meters) required for introducing solutions and exhibiting products. The Area Exhibits is composed of 3 areas including Total Solutions Area for exhibiting solutions and products in general, Categories Area for specific fields, industries and markets, and Devices & Technologies Area for electronic components, electronic devices, and software.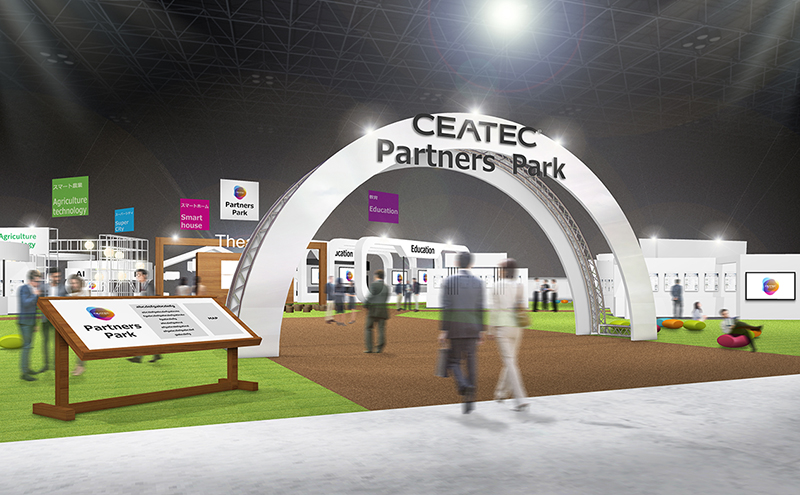 Total Solutions Area

An area for exhibiting solutions and products geared toward the realization of Society 5.0.

Disseminate corporate vision or new business models toward Society 5.0,
Implement comprehensive exhibition across departments as the company runs a number of business divisions,
Exhibit solutions for a new category aimed for various industries.

Participation Criteria

CPS/IoT, plus total solutions and products for realizing Society 5.0.
Categories Area

An area for showcasing innovative solutions and products that will revolutionize a specific industry.

Exhibit specializing in smart mobility such as CASE and MaaS,
Exhibit specializing in improving productivity using AI and IoT,
Exhibit specializing in telemedicine service and healthcare.

Participation Criteria

・Next-gen mobility
・Next-gen lifestyles
・Smart factories
・Smart home

The above will be placed in Categories Area.
Devices & Technologies Area

An area for showcasing electronic components/devices or technologies such as software that will support the realization of Society 5.0.

Exhibit electronic components by application,
Exhibit focusing on specific technologies,
Exhibit devices and technologies whose destination is unknown at the moment

Participation Criteria

Electronic components/devices, machinery, AI/big data, 5G, cyber security, software, etc.
Planned Exhibits
When an exhibitor meets the criteria for Society 5.0 TOWN or Co-Creation PARK, that exhibitor will become eligible to exhibit in the area. Please refer to the exhibition criteria for restrictions and prerequisites.
Society 5.0 TOWN

An area planned for showcasing "2030 township" through co-creation with the participation of several firms engaged in providing services and solutions.

Frontrunner companies and organizations in non-manufacturing industries such as services and solution providers developing businesses for individuals

Participation Criteria

Distribution and retail: Supermarkets, convenience stores, department stores, drug stores, apparel stores, etc.
Transportation: Air, ground, railways, taxis, etc.
Energy: Electricity, gas, petroleum, etc.
Construction: Residential housing, etc.
Financial: Banking, brokerage, life and nonlife insurances, etc.
Tourism, entertainment: Travel, hotel, leisure, gaming, etc.
Media: Newspaper, television, etc.
Medical, healthcare: Hospital, fitness club, etc.
Education: School, private tutoring, childcare, etc.
Others: Express highways, security company, ceremonial functions service, etc.
Co-Creation PARK

A planned area for showcasing multiple pavilions of overseas organizations as well as domestic and foreign startup companies with a keen eye on the future.

Participation Criteria

Startups of less than 9 years in business aiming to grow (established after October 2011)
Universities and academic institutions aiming for social implementation of research outcome
Overseas institutions: Embassies, consulates in Japan, etc.