Announcing The Winners of CEATEC AWARD 2022
Minister for Internal Affairs and Communications Award
hall

7

Booth Location

T011
UNIVERGE RV1200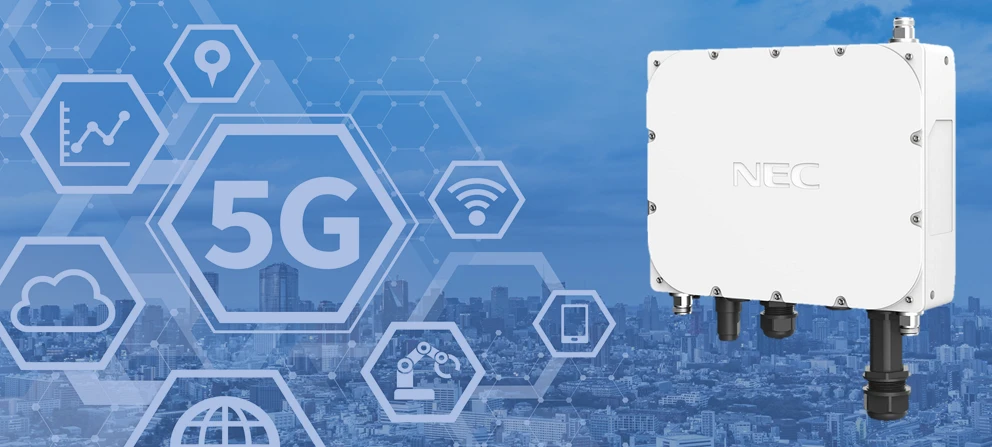 Outline
All-in-one local 5G compact base station featuring both radio unit (RU) and control unit (CU/DU) in a single chassis
Compact design (external dimensions: 250 x 57 x 210 mm, weight: 3 kg)
Facilitates setting up a 5G network in a relatively small area (e.g. one floor of an office building or a retail store) but also scalable for medium/large-size installations
Thanks to its simple, integrated design, installation costs and power consumption are lower than for conventional base stations.
Assessment
Local 5G networks operate separately to the public 5G (5th generation) mobile communications systems operated by telecommunications carriers; they are dedicated 5G networks installed in specific areas and buildings by a corporate or governmental organization. As well as providing 5G communications in areas not served by public 5G networks, a local 5G network is also considered to be secure because it not connected to any external networks. What has been an issue, however, is the cost of installing such a dedicated network.
Whereas a conventional base station has two parts (a radio unit and a control unit), NEC's local 5G compact integrated base station fits both into a single chassis. The price point means that installation costs are reduced by more than 50% compared to a conventional base station. Moreover, the simple system configuration not only reduces the time required for installation and lowers power consumption, but being highly flexible it is suitable for small-scale installations which can be expanded at a later date if necessary. Highly evaluated was this system's potential for promoting local 5G adoption in many different areas — including offices, small factories and retail stores — as well as for such applications as HR development and education.
Close
Minister of Economy, Trade and Industry Award
hall

8

Booth Location

T006
Indoor photovoltaic device 『LC-LH (Liquid and Crystal Light Harvesting)』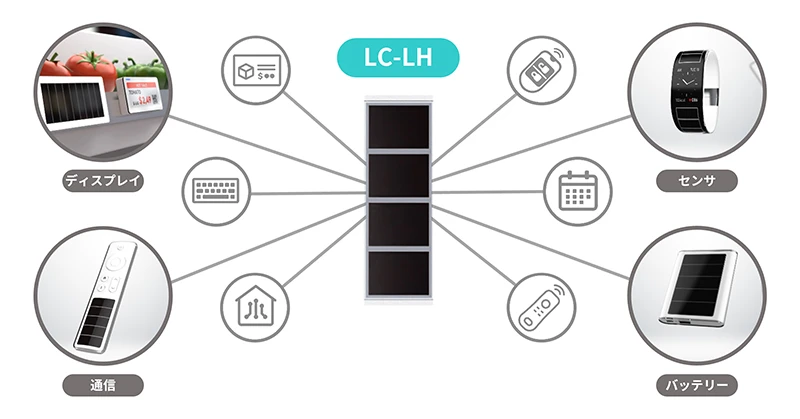 Outline
This LC-LH device was developed as a highly efficient indoor photovoltaic cell that converts small amounts of light into energy. Power generation efficiency is approximately twice that of the ordinary solar cells found in watches, calculators, etc. A device of this type with only a small area can thus generate a substantial amount of electricity. The LC-LH can be used to improve the performance of products typically powered by solar cells, but it has greater potential. Products that have until now been powered by disposable batteries or wired power supplies can instead be powered by this LC-LH device, eliminating the need for wiring or battery replacement and resulting in a new generation of convenient and environmentally friendly products.
Assessment
Sharp's LC-LH (Liquid & Crystal Light Harvesting) high-efficiency indoor photovoltaic device benefits from the company's considerable expertise and experience of LCD technology, enabling low-cost, high-quality production while providing approximately double the power generation performance of conventional devices. By focusing specifically on indoor applications, the company has been able to use its existing LCD manufacturing facilities and equipment, and this is expected to result in significant cost reductions. Among the LC-LH applications that are envisioned are devices such as electronic price tags, POPs, beacons and sensors. Since these devices will not require batteries, their cost and environmental impact will be reduced, thus contributing to the achievement of the recycling, clean energy, and safe society goals that are integral to the SDGs and Society 5.0. At CEATEC 2022 not only did the company demonstrate its advanced technology, but also its ability to help solve various social issues — such as replacing paper and disposable batteries, while addressing the challenges of labor shortages and an aging society — and this was highly evaluated.
Close
The Minister of Digital Agency Award
hall

5

Booth Location

SU076
ARUMCODE1, the world's first AI that fully automates NC programming for machine running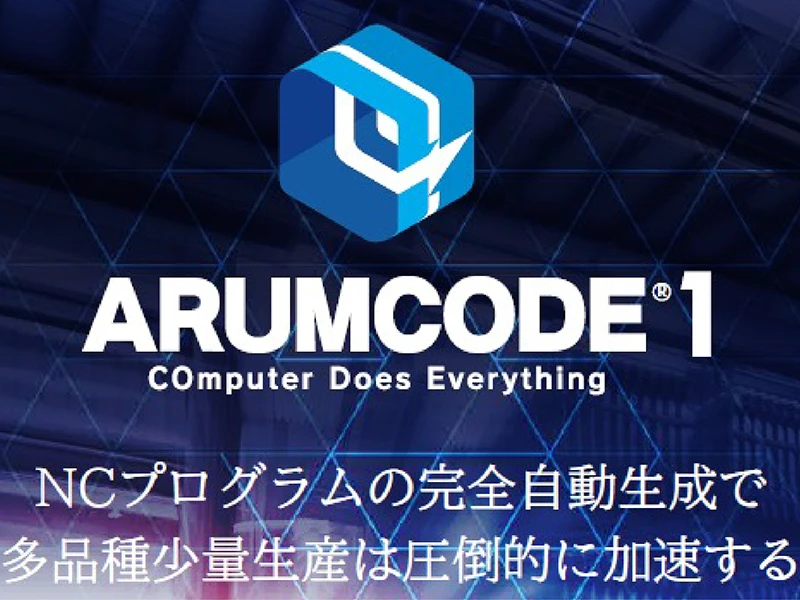 Outline
The parts machining industry — which has continuously supported the world's major industries such as automobiles, semiconductors, and electronics — is facing serious labor shortages. As a solution to this problem, ARUM has developed the world's first AI system for full automation of machining program creation, a process that accounts for as much as 50% of parts manufacturing costs. As a result, NC programs can be automatically generated simply by reading CAD data, and machining can then begin immediately. Something that used to take a skilled technician one hour to complete can now be accomplished in one minute; this represents a dramatic improvement in productivity.
Assessment
Founded in Kanazawa, Ishikawa Prefecture, ARUM Inc. has an extensive track record of providing automation equipment for production lines in the factories of major manufacturing companies. Programming accounts for 50% of costs borne by the metalworking industry, which produces a wide variety of products in small quantities, so to address this the company developed ARUMCORE1 AI software to fully automate NC programming. ARUMCORE1 reduces time costs by 96% compared to conventional software. In addition, by automatically generating programs at night, this software has increased machine tool utilization from 30% to 80%, resulting in a 50% reduction in manufacturing costs per part. This improves not only price competitiveness but also profit margins, as demonstrated by the company's own profitable factory. Many inquiries have been fielded from both domestic and overseas companies. ARUM aims to fully automate factories from both hardware and software perspectives. It was highly evaluated not only for its technical capabilities and vision, but also for the practicality and marketability of its software, which is currently being used in its factory, attracting much attention.
Close
Total Solutions Category
Key Technologies Category
Smart × Industries Category
Startup & University Category
Partners Category
About CEATEC AWARD
The CEATEC AWARD 2022 Review Panel of Judges will review and select the exhibits and projects submitted in advance by exhibitors from among the technologies, products, and services that will be exhibited at CEATEC 2022, and award those that are deemed highly innovative and outstanding from academic and technical perspectives, marketability, and future potential.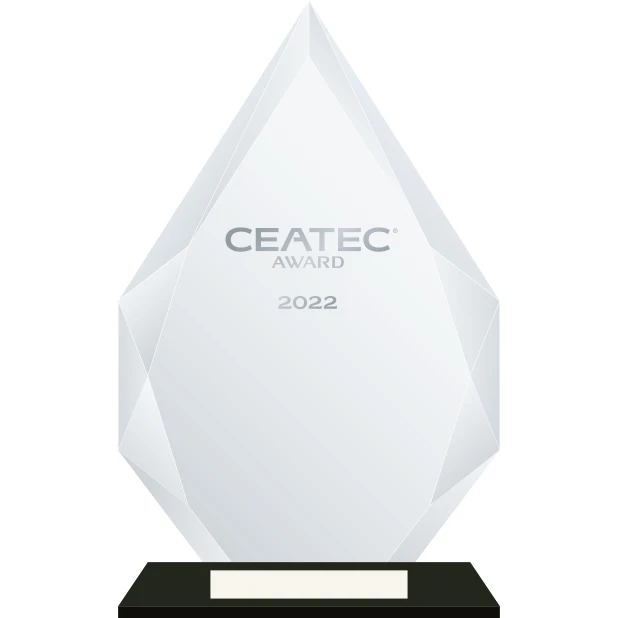 CEATEC AWARD 2022 Review Panel of Judges
Academic societies (in no particular order)
Information Processing Society of Japan
The Institute of Electronics, Information and Communication Engineers
The Institute of Image Information and Television Engineers
The Institute of Electrical Engineers of Japan
Research Institute and Media Related (in no particular order)
MM Research Institute, Ltd.
Nikkan Kogyo Shimbun, Ltd.
Nikkei BP Intelligence Group
ITmedia Inc.
Techno-Core Corporation
Observer
Ministry of Internal Affairs and Communications, Japan
Ministry of Economy, Trade and Industry, Japan
Digital Agency
Japan Electronics and Information Technology Industries Association
Communications and Information network Association of Japan
Software Association of Japan
Past Award Winners
CEATEC AWARD 2021
CEATEC AWARD 2020
CEATEC AWARD 2019