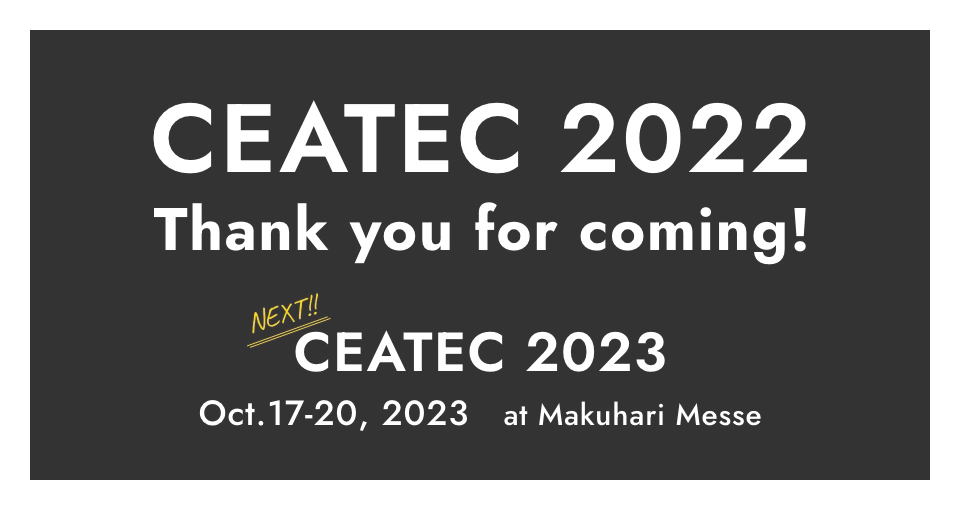 Area Information
Online
Our exclusive online exhibition platform provides a venue for visitors to view exhibits online without being restricted by time or location.
In addition to companies and organizations exhibiting at Makuhari Messe, there will be over 300 online booths for exhibitors to participate solely online.
Click here for details
Conference
From October 1 (Sat.), seminars on technology trends and other topics such as "Technology Supporting Society 5.0," "Sustainable Society," and "Digital Garden City" will be held online by leading business executives from various industries and front-runners in the "New Industrial Age.
Click here for details
CEATEC AWARD 2022
The CEATEC AWARD is given to exhibits and projects entered in advance by exhibitors from among the technologies, products, and services to be exhibited at CEATEC 2022 that can be evaluated as outstanding from an academic or technological perspective, marketable, promising, and innovative. This year, the Digital Minister's Award will be newly established, so stay tuned to this exciting competition!
View the CEATEC AWARD 2022 winners
INFORMATION
Notice from CEATEC
Access
Access information to Makuhari Messe venue and special deals in the area
Click here for details