Why CEATEC ONLINE
Why many of those involved in the planning are frontrunners,
blazing a path to a future co-created at CEATEC?
01

CEATEC is a future-oriented "comprehensive exhibition."

As a "comprehensive exhibition of Society 5.0" covering a wide range of industries and sectors, CEATEC showcases exhibitors' visions and new business models in interdisciplinary areas for the future society using advanced technologies.

02

CEATEC provides an opportunity for co-creation

From the electronic components and devices that will support the future society of Society 5.0 to the products and services that utilize these components and devices will gather under one roof. It is an environment that facilitates the creation of new connections and businesses not only with visitors but also with other exhibitors.

03

CEATEC is a place where the executives also gather

More than 100,000 visitors from most of industries in Japan will gather. The advantage of CEATEC is that it attracts not only government officials, top executives of companies and organizations, but also students who will lead the future.

04

CEATEC widely delivers information throughout the world.

CEATEC is an event that attracts many journalists from world over, including broadcasters and newspapers, and is used not only for the announcement of new services and products, but also as an opportunity to showcase visions for the future.
What You Can Do at CEATEC 2020 ONLINE
01

Real-time Communication

Functions such as live streaming and real-time chat will be offered to enable real-time communications between exhibitors and visitors.

02

Approaches Targeting Across Japan and Abroad

It is possible to approach targets who were interested in attending CEATEC – like those who couldn't attend in the past for reasons of distance, or those from other countries. Also, in addition to past visitors of up to 260,000, through our sponsors and partners we will proactively attract domestic and international stakeholders who have not been able to come to the event in the past.

03

Offering efficient and Quick Follow-up

List of visitors to your booth can be obtained at any time from a dedicated page.
Because the system is also equipped with a report function that allows exhibitors to confirm each visitor's viewing and behavioral histories, it can be used as a tool for analysis and to acquire a list of potential customers, as well as to conduct follow-up after the event.
Advantages of CEATEC 2020 ONLINE
A tool that can be used over the years

CEATEC 2020 ONLINE can be used over time as the elemental tool of CEATEC that will effectively connect exhibitors and visitors before, during and after the exhibition takes place.

Low-cost Participation

With CEATEC ONLINE, exhibitors can publish their promotional materials in the original format. without having to change the format. In addition, exhibitors can distribute videos by simply registering the URLs of videos posted on YouTube and other sites on the CEATEC 2020 ONLINE, so exhibitors can expect to link with the company YouTube channel and increase the number of channel subscriptions.
CEATEC 2020 Results
The number of visitors
The number of exhibitors

Conference

Visitors Profile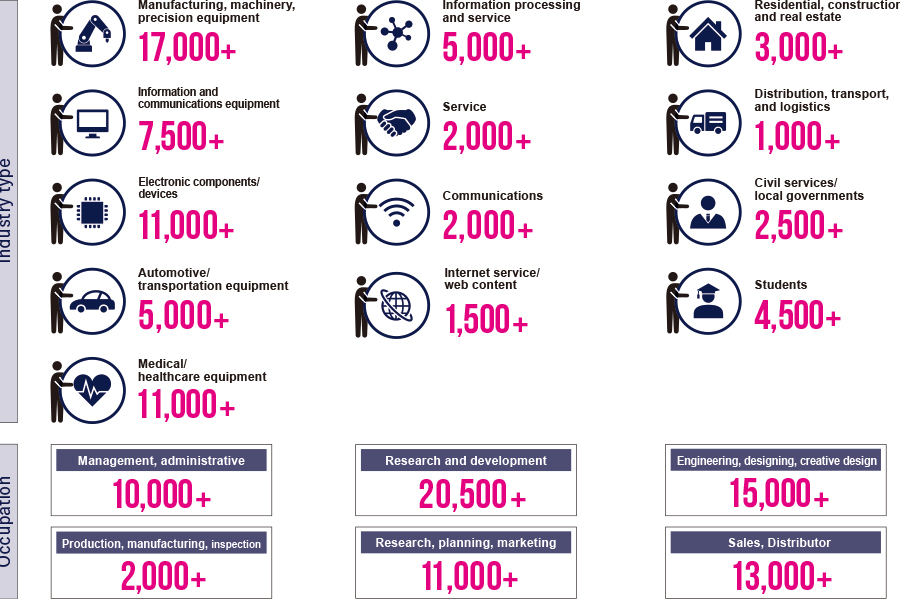 Booth report

Average number of visitors by plan (number of unique visitors between October 20th and November 2nd)

PRESS Profile